Events
OMNIplus at Busworld 2023
Innovative products, new digital services and service contracts
Operators of a fleet of Mercedes-Benz or Setra vehicles can rely on OMNIplus for access to the largest bus-specific service network in Europe, as well as services that make their business more efficient and easier. This is also reflected in the numerous service offerings that OMNIplus will showcase to visitors of the Busworld trade fair in Brussels from 7 to 12 October 2023.
More security and efficiency with digital services
A significant focus of the OMNIplus offering is digital services, which have become an indispensable tool for many bus/touring coach fleet operators in improving the availability and cost-effectiveness of their vehicle fleets.
Whether it be fleet management, workshop management, or depot management, the range of digital services showcased at Busworld is extensive. With the new OMNIplus ON monitor Performance Analysis, fleet managers can analyse different driving styles and optimise them selectively. With OMNIplus ON Uptime pro, dispatchers and technical fleet managers always have full transparency regarding the vehicle's condition. Transport companies can proactively manage repair and maintenance management and thus avoid complex processes. And with Remote Charge Control, OMNIplus ON offers a remote service tool for charging and preconditioning the eCitaro.
Interfaces: Virtual and essential
For easy utilisation of vehicle data in third-party telematics and analysis systems, OMNIplus ON has introduced the standardised TiGR vehicle data interface, for instance. With this new, virtual data interface, transport companies are able to communicate optimally with all ITxPT-compliant back office systems. Another novelty is the OMNIplus eProcurement interfaces, where spare parts can be procured directly from your own ERP system – a noticeable simplification in the purchasing process.
Sustainability as a trade fair focus
OMNIplus has long included sustainable offerings, such as recycled or 3D-printed spare parts in its product range. A return system for eCitaro high-voltage batteries is currently being developed together with customers and partners. And there is also something exciting to report about the popular OMNIplus service contracts: in the Dynamic variant, they adapt flexibly to the actual mileage of the buses/touring coaches.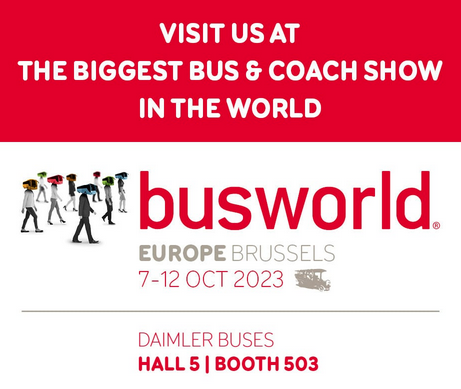 OMNIplus