Service
Your service partner for COVID-19 protection
The comprehensive OMNIplus package of COVID-19 measures for buses and coaches
With its current COVID-19 services, the OMNIplus service brand ensures the best possible infection protection in coaches, city and intercity buses.
Safety has always been the number-one concern for the Mercedes-Benz and Setra bus and coach brands. This promise also includes protection against infection. To ensure drivers and passengers always feel at ease when travelling by bus, since the very start of the pandemic the OMNIplus service brand has offered a comprehensive and continuously updated package of COVID-19 measures: with practical retrofit solutions, special services and recommendations for action. OMNIplus is a competent first port of call for bus companies and transport operations requiring all-round COVID-19 hygiene measures in their buses and coaches.
Maximum fresh air supply thanks to a software update.
The highly developed ventilation and air conditioning systems in Mercedes-Benz and Setra coaches markedly reduce the risk of viral transmission on board. Depending on the bus or coach model and the outdoor temperature, the air in the compartment can be fully exchanged every two to four minutes. In addition, the experts at OMNIplus are able to extend the maximum fresh air intake of the air-con system by an optional extra third. In this case, the range of possible air intake values is extended upwards and downwards by a software update. If desired, this offer is also available for Setra coaches with Aquasphere systems.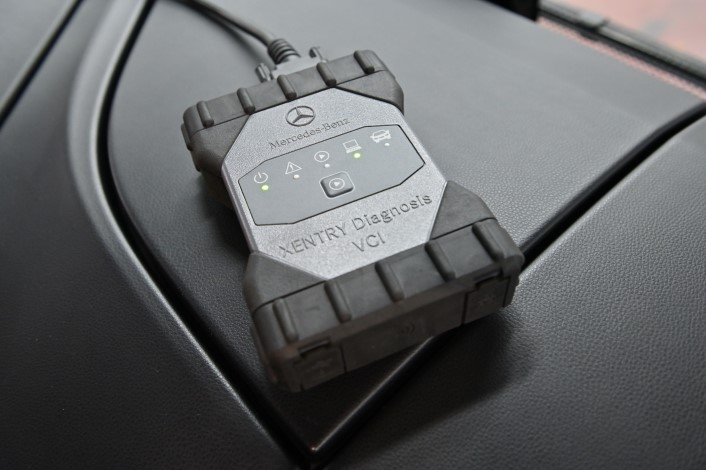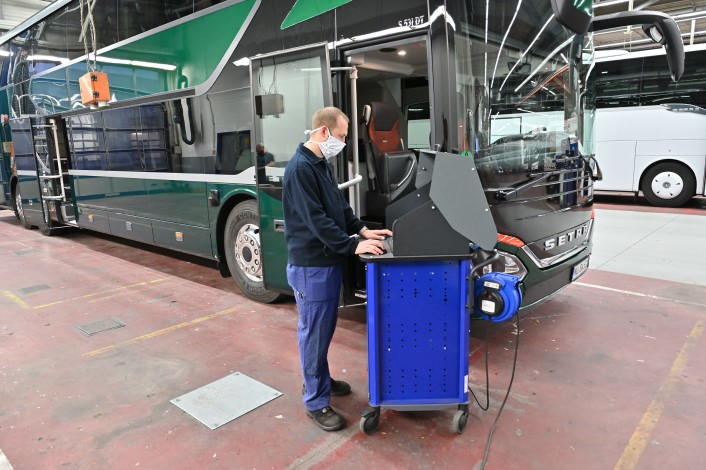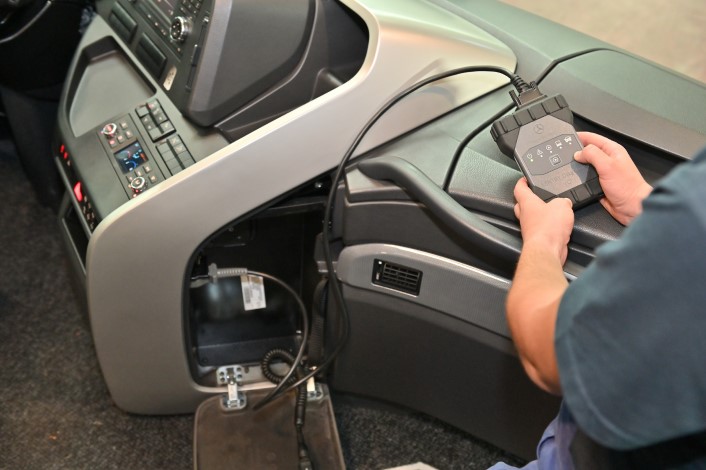 Filter systems with antiviral function.
With the installation of a modern filter system with an antiviral function, bus companies and fleet operators can effectively reduce the risk of infection on board. Unlike standard activated carbon filters, these multi-layer, progressively designed active filters have an anti-viral section filtering out the finest aerosol particles. Independent studies have proven the very high effectiveness of these active filters. OMNIplus service workshops can get the job of installing active filters done quickly and easily. Active filter sets are also available to order so that customers can do the retrofitting in their own workshops. You can find out how to retrofit your bus with active filters here.
Antiviral active filters separate out aerosol particles and increase infection prevention.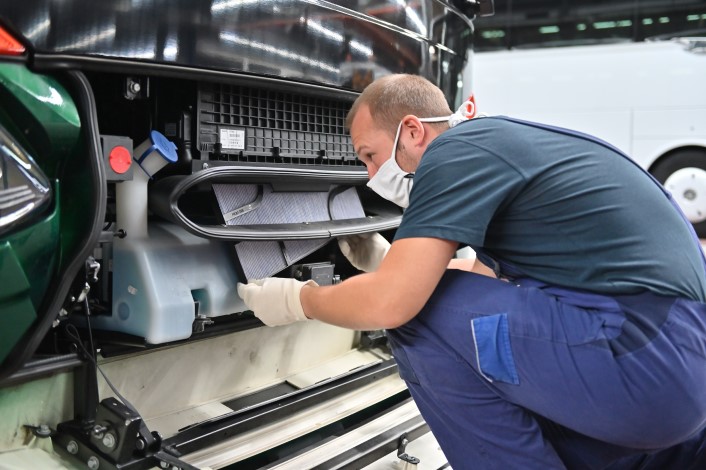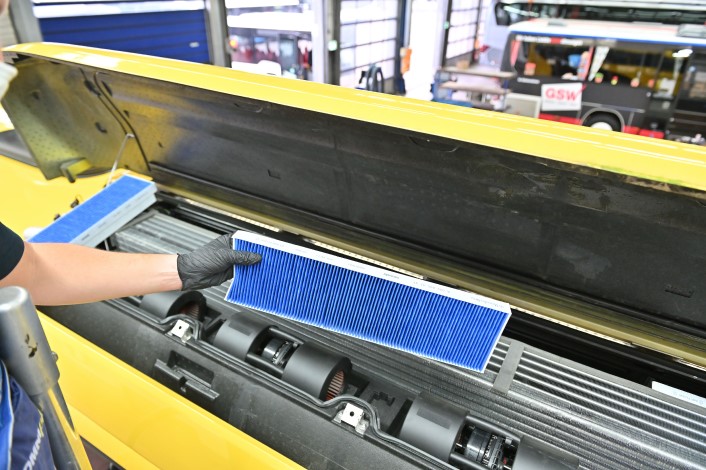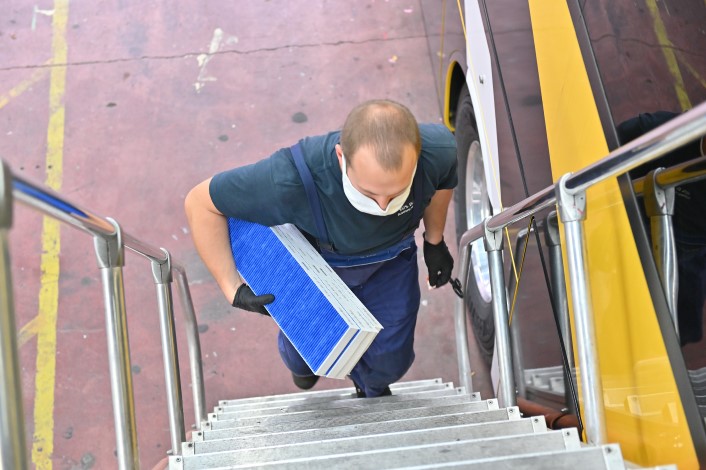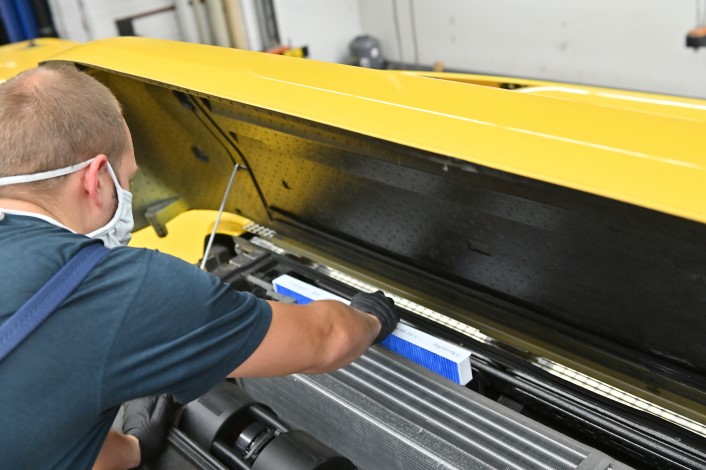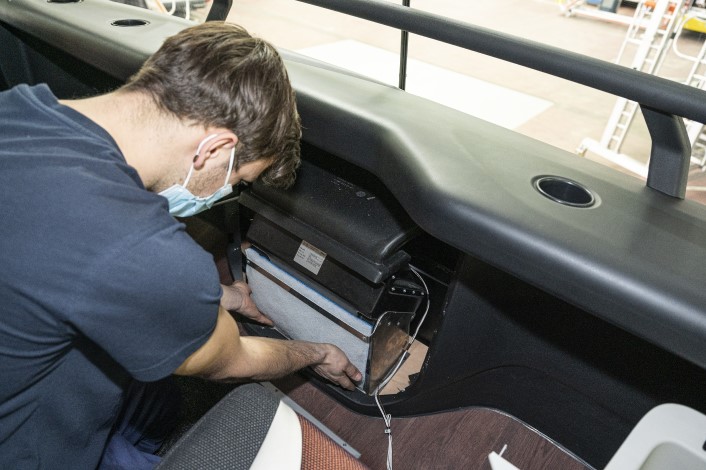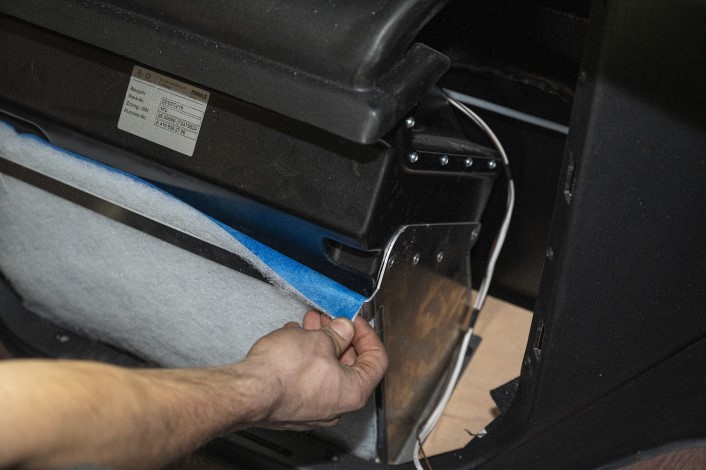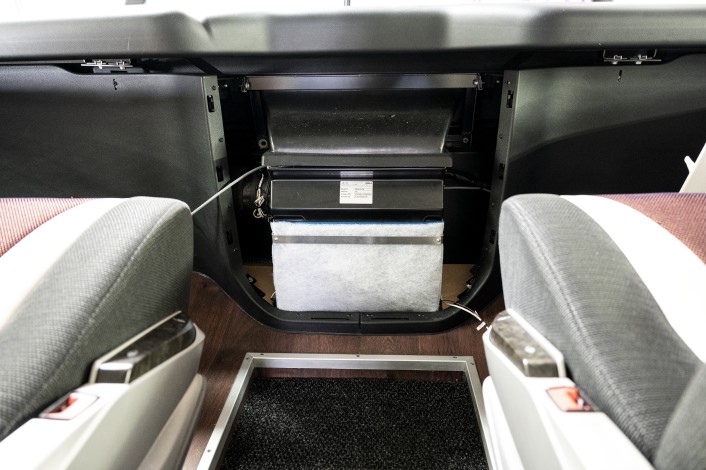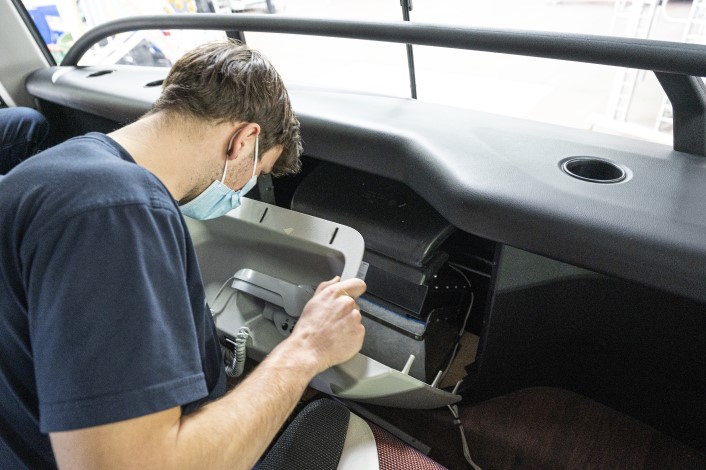 Air sterilisation systems for the on-board toilet.
In contrast to the passenger compartment, the air in the toilet cubicle of coaches cannot be fully filtered by the antiviral active filters. That is why, for Mercedes-Benz and Setra coach models, OMNIplus offers a special recirculation system to sterilise the air in the cubicle as much as possible. This system uses the natural phenomenon of photocatalysis, rendering viruses, bacteria and germs harmless. This markedly reduces the risk of infection for passengers throughout the passenger compartment. The retrofit by OMNIplus can be carried out on any Mercedes-Benz or Setra coach toilet cubicle.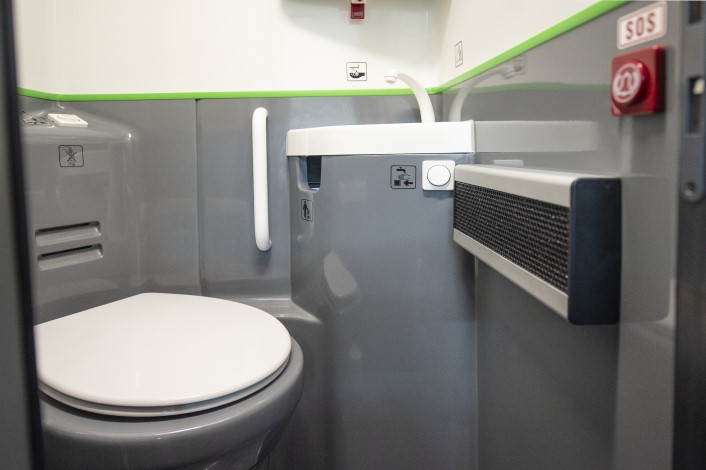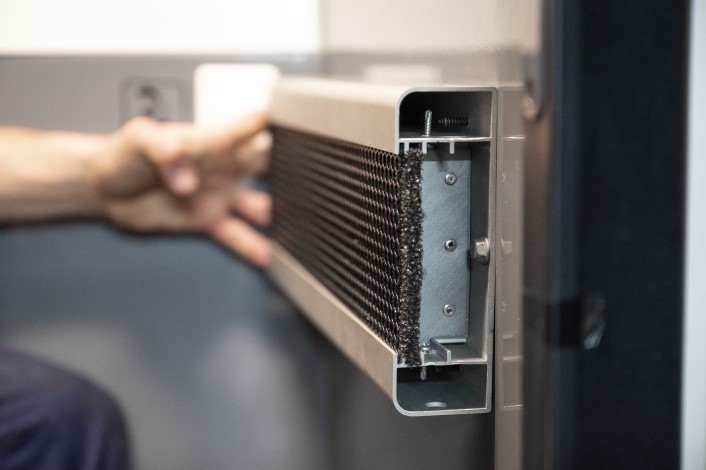 Hand hygiene and disinfection of contact areas.
Regular hand hygiene is also an important measure hindering the rapid spread of pathogens. The most hygienically sensible solution for buses and coaches is the installation of a contactless disinfectant dispenser. This is offered by OMNIplus as a retrofit for attachment to the rotating door frame, handrails and other suitable flat surfaces. In addition, OMNIplus recommends that bus companies pay particular attention to the regular cleaning of surfaces, handrails and handles in the vehicle. Here it is important to use cleaning products that achieve the purpose intended without having any undesirable side-effects. To this end, OMNIplus offers you an overview of unsuitable ingredients and the potential material and health damage that can result from their use: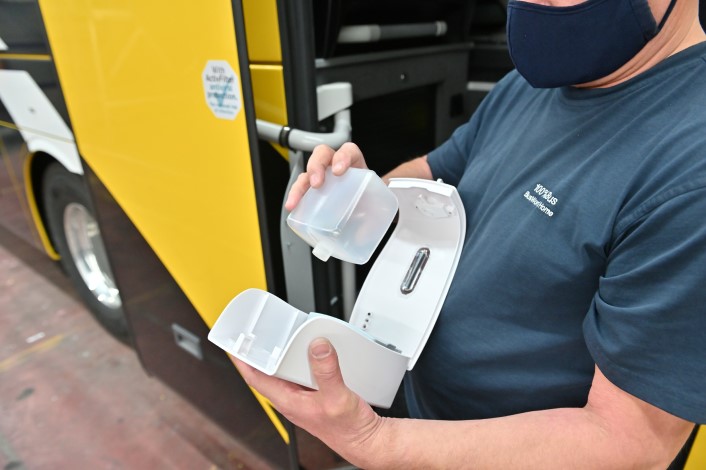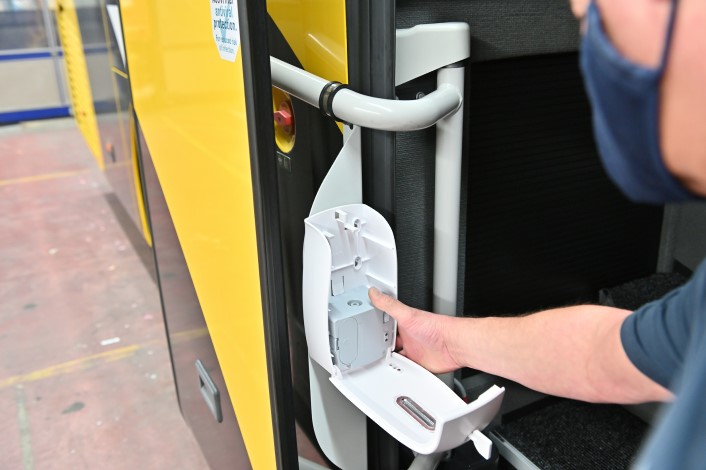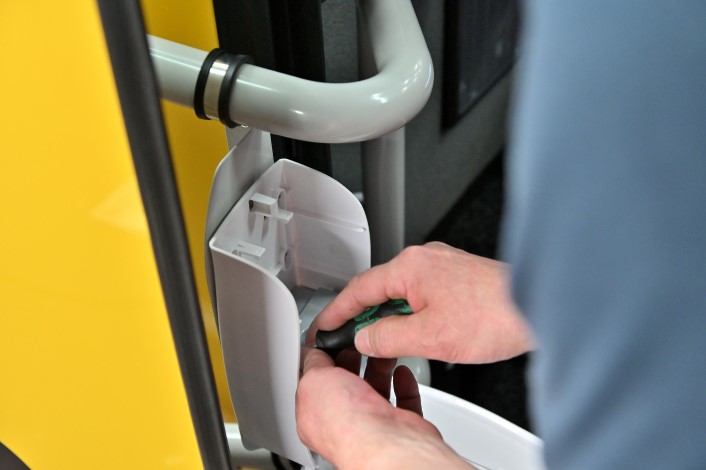 Professional driver protection doors as a retrofit.
The OMNIplus service brand is your competent contact if you want to make your bus even safer by installing COVID-19 retrofits. This particularly applies to driver protection doors and separating screens, safeguarding your drivers effectively against infectious droplets. Whether made of tempered glass or high-quality polycarbonate: the transparent separating screens can be supplied in a closed or partially open design that allows for ticket sales. As a professionally retrofitted solution, they guarantee an unrestricted view through the windscreen, as well as of the interior and exterior mirrors. The various designs are type approved and certified to regulation ECE R43. Currently, you can receive a high-quality glass retrofit for your Mercedes-Benz Citaro C2 and eCitaro at a special price. Want to receive a non-binding offer? Or do you have questions about the various types of driver protection doors and separating screens? Then simply contact your OMNIplus Service Point.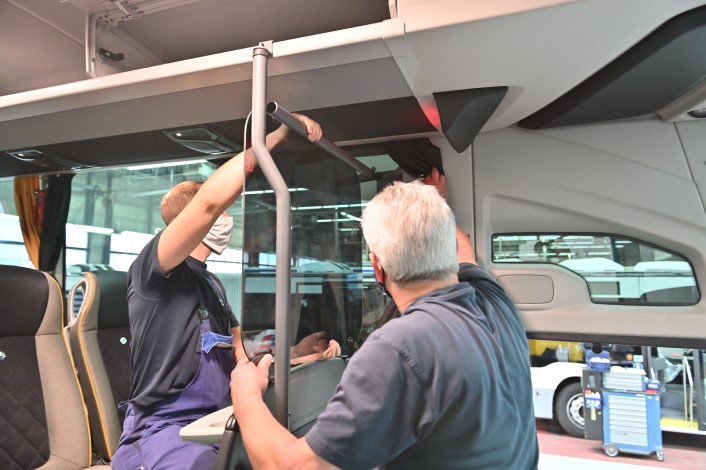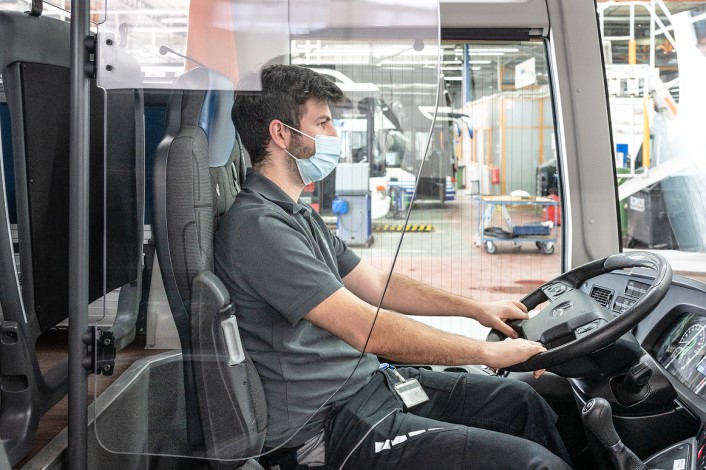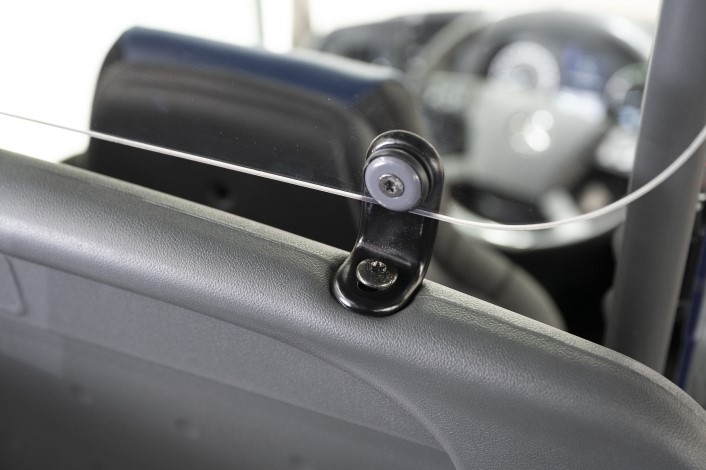 A specialist restart check.
With the gradual loosening of restrictions, ever greater numbers of buses and coaches that had been temporarily decommissioned can get back on the roads again. To ensure the restart goes completely smoothly, OMNIplus offers an expert restart check as a comprehensive service – with all the necessary testing and inspection works. It includes inspecting the fluids such as coolant and oil, checking the electrics, carefully going over every single pipe, cable and filter – and much more. Our experienced OMNIplus service technicians will also be glad to assist you on site. And if your premises does not have a suitable space for carrying out the check-up, we will organise a safe transfer to our Service Point.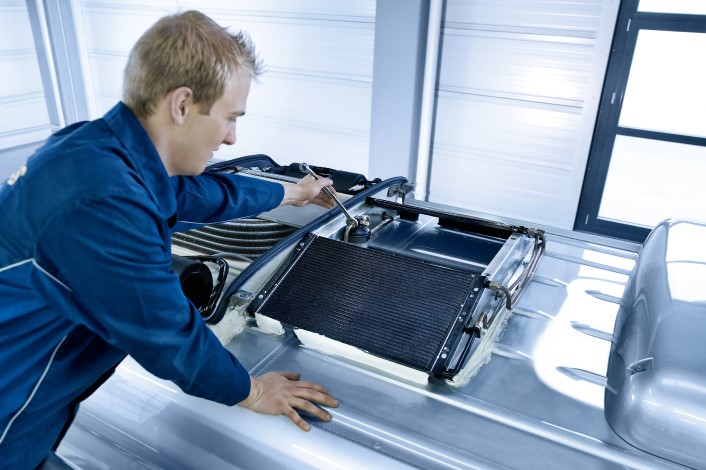 OMNIplus