Service Network
A network where nobody falls through the gaps
With the largest service network in Europe, OMNIplus ensures coach tours go to plan.
The OMNIplus Service Network for buses and coaches is multi-talented. It ensures round-the-clock breakdown repair, procures replacement parts overnight, provides replacement buses and can even prevent concert cancellations.
Whether coaches, long-distance or tour buses – none should hit the road without the professional support of OMNIplus servicing. This is why OMNIplus has linked up a dense network of over 600 Service Points across Europe: the OMNIplus Service Network. Chatting with Monika Morkel from OMNIplus BusWorld Home Munich, it becomes clear at once how versatile the help offered by Service Points is and how bus companies really benefit from it over the long term.
A unique competitive edge.
"Bus operators know the true value of what we give them." Monika Morkel speaks from experience. For the Manager of BusWorld Home Munich, the OMNIplus Service Network offers a unique competitive advantage for Mercedes-Benz and Setra buses and coaches. "An edge that our customers also benefit from," Morkel adds, "because it helps them run their businesses successfully." For example, the OMNIplus Home in Garching, near Munich, also serves long-distance bus operators. Morkel: "It is precisely these long-distance services, with their full, tight schedules, that benefit from the OMNIplus Service Network."
Rapid aid from technicians in the vicinity.
Monika Morkel has many stories from her 35 years at OMNIplus. She remembers well a bus operator that had suffered a breakdown on the motorway on the return leg of a long round-trip by double-decker. Once the call for help was made, an OMNIplus technician arrived rapidly, but the diagnostic check soon determined that the vehicle was no longer roadworthy. Thus, a replacement bus had to be organised at speed so the passengers could continue on their journey. "Our primary goal is always to make repairs right there and then. Only when this is impossible does the bus get towed to the nearest Service Point," reports Monika Morkel. "The technician makes the decision together with the customer on site."
The actual repairs that can be carried out at the OMNIplus Service Point depend on the equipment available. To ensure better oversight, the OMNIplus locations are divided into the performance categories of BusWorld, BusPort and BusPoint. The BusWorld category of Service Points, including the BusWorld Home facilities operated internally, offer the highest level of provision in terms of parts availability, participation in the OMNIplus 24h SERVICE and special tools for bus-specific repairs. One decisive advantage, however, comes from the nature of this close-knit web of Service Points – because all of them work hand in hand.
"All OMNIplus Service Points work hand in hand."
Monika Morkel, head of BusWorld Home Munich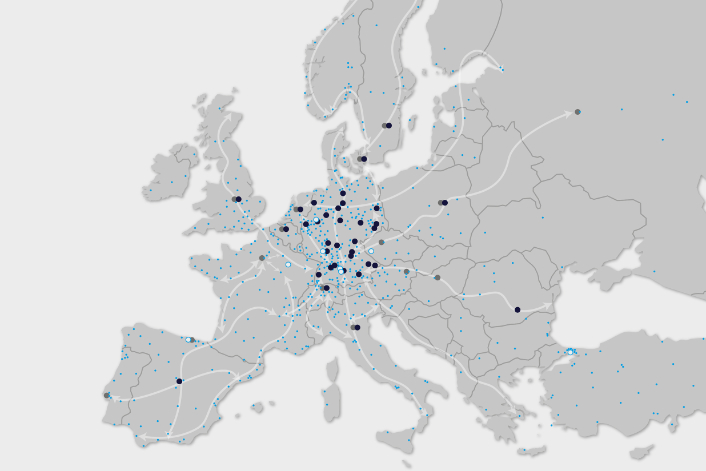 Tour schedule back on track.
Monika Morkel remembers one case, a specially fitted coach used as a tour bus. The schedule for travel from concert to concert was very tight. When a technical defect arose, the bus drove to the nearest OMNIplus Service Point, where diagnostics could be carried out. It soon became clear that the bus was roadworthy but needed work that couldn't be carried out right there on site. By quickly matching up the tour schedule with the OMNIplus Service Network, the assessment could be made and parts ordered to the closest Service Point to the route. There, the employees were then fully ready to repair the bus on its arrival.
Servicing with foresight.
Alongside the workshop staff's technical expertise, their extensive experience also ensures the right support is provided. Thus, at OMNIplus, it is known which parts are most requested in which season, meaning that they can be made available in sufficient quantities. For example, in winter, locations near Christmas markets receive extra replacement parts for the heating system.
And the OMNIplus Service Points are also fully equipped for larger events. Whether it's a church meeting where many people are due to arrive by coach, the Passion Play in Oberammergau or a Bundesliga game after which bursts of passionate fan rivalry can always lead to one or another bus window getting smashed – we know our business inside out at OMNIplus and will take the appropriate precautions.
Recently, Monika Morkel reports, it became clear that, with bus travel starting up again, many buses had not moved in a while, with calls to OMNIplus locations thus being made at greater frequency – particularly in Munich, a much-frequented destination for coach tours. OMNIplus has also adjusted to these circumstances, with customers valuing highly the level of service they receive from Daimler Buses. It's something Monika Morkel is very glad of: "We are always receiving emails in which bus operators thank us sincerely for our help. And we never fail to pass on this praise to our entire team."
OMNIplus